Enjoy 10% off the Leapfrog Bolt Pro and receive 2kg of MatteForge Filament FREE!
INDEPENDENT DUAL EXTRUDERS
Equipped with unique, swappable direct drive Independent Dual Extruders capable of sync or mirror-mode and multi-material printing.
Made of high grade aluminum underneath its signature design with every functional component made from steel for a long life span of intensive use.
​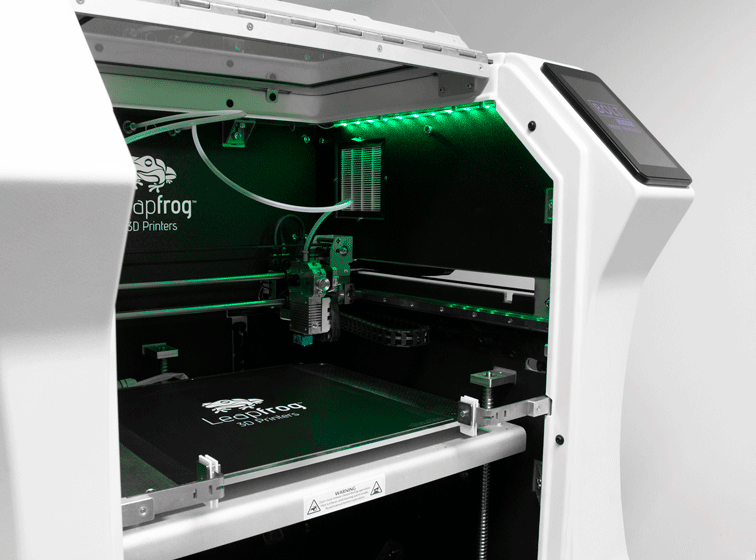 With build volumes of up to 330 x 320 x 205mm, large projects are possible and on a swappable Buildtak Flexplate heated print bed which ensures easy print removal.
INTELLIGENT USER INTERFACE
The responsive user interface communicates with you, featuring lighting in the enclosed build area which changes color to indicate idle, heating or active operation and a 7" touchscreen which guides you from necessary functions to multiple maintenance guides.
BUILT FOR OFFICES AND FACTORY FLOORS
Engineered with safety of office and factory staff in mind, the built-in HEPA carbon filter reduces any harmful fumes which might be produced while printing by 99.9%.
OPTIMIZED FOR EFFICIENT WORKFLOWS
Multiple user logins and privileges, OneDrive and Dropbox integration, along with network connectivity with any device enables seamless workflow between different users or departments, and automatic firmware and software updates ensure peak operational performance.
EXTENSIVE FILAMENT OPTIONS
E3D hotends ensure printing compatibility with filament from most major material manufacturers in the market.
A fully integrated system which does all the work, leaving you to just materialize your ideas and designs.
AN OMNI MACHINE FOR INDUSTRY
Luca Faggin
Europe Innovation Manager Crocs
"Ever since the launch of our first clog we have been innovating, engineering and improving our footwear. In order to stay head of our competition, we must keep developing new products quickly. This is why we have chosen the Bolt 3D Printer for our prototyping department in Italy."
50 μm (0.05mm)
Max Layer Resolution
330 x 320 x 205 mm
Build Volume (Single Extruder)
300 x 320 x 205 mm
Build Volume (Dual Extruder)
Buildtak Flexplate System




Build Platform